This year the Johann Wempe Award is awarded to Dr. Ignasi Ribas from the Institut d'Estudis Espacials de Catalunya, Spain, for his distinguished work on the study of M dwarf eclipsing binaries and the habitability of exoplanets. The award is financed from funds left in the will of Johann Wempe, the last director of the former Astrophysical Observatory Potsdam (1906-1980).
» More...
Program of the award ceremony on 9th November 2007
10:00
Greeting
10:15
Laudatio
10:30
Awarding the prize
10:45
Refreshments
11:15
Ceremonial lecture
Prof. Dr. Artie P. Hatzes
(Landessternwarte Thüringen)
"The Current Status of Exoplanet Research"
12:00
Buffet
Please send a message of interest to Katrin Götz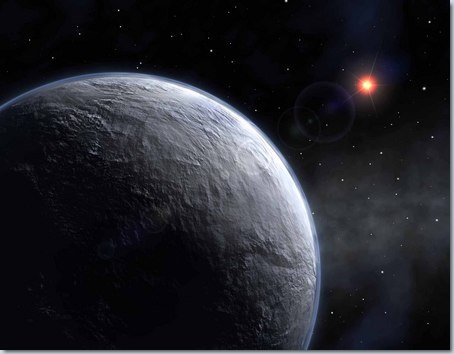 Künstlerischer Entwurf des Exoplaneten OGLE-2005-BLG-390Lb, an dessen Entdeckung das AIP beteiligt war [Bild: STSCI/G.Bacon]
The laureat
His central goal is the analysis of the interior life of stars. He studies the convective energy transport and the rotation of stars as well as the influence of their magnetic fields. By means of detailed observations of M dwarf stars in eclipsing binaries, he draws conclusions on their internal structure. As early as 1999, he was honoured for his doctoral thesis at the University of Barcelona. From 2000 to 2001 he was employed at Villanova University in the USA, first as a Fulbright Fellow, and after that as a post-doc. From 2001 to 2004 he was assistant professor at the University of Barcelona. Presently, he does his research as a Ramón y Cajal Fellow at the Institut d'Estudis Espacials de Catalunya, Spain. With his 142 accepted publications he is one of the leading young European astronomers in his field.
[Presse release (in German)]