Johann Wempe Award 2010 - Prof. Dr. Yehuda Hoffman
Award Ceremony on 8 November 2010 at the Astrophysical Institute Potsdam (AIP)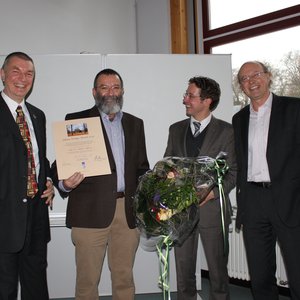 This year the Johann Wempe Prize has been awarded to Prof. Yehuda Hoffman from the Racah Institute of Physics at the Hebrew University of Jerusalem.
Yehuda Hoffman has spent his career investigating the formation and evolution of structures in the Universe. Starting in the 90s, he began deducing the large scale structure in the local Universe from observations of the peculiar velocity of nearby galaxies. His method is the basis for highly complex computational models that simulate the formation of our Milky Way. Such simulations are performed within the international CLUES project at supercomputing centers in Jülich, Munich and Barcelona.
During the award ceremony on 8 November 2010 at 2:00pm, Prof. Dr. Ofer Lahav, Vice-President of the Royal Astronomical Society, Perren Chair of Astronomy and Head of Astrophysics University College London gave a laudatio lecture entitled "Mapping and Measuring the Universe".
Prof. Yehuda Hoffman studied physics and mathematics at the Hebrew University of Jerusalem and at Tel-Aviv University. His PhD thesis was entitled "The Large Scale Structure of the Universe: Luminous vs. Dark Matter". After post-doctoral research positions at the University of Pennsylvania and Los Alamos National Laboratory, in 1988 Yehuda Hoffman returned to Israel and took up a position at the Technion - Israel Institute for Technology, in Haifa. Since 1990 Prof. Dr. Yehuda Hoffman has been permanently based at Racah Institute for Physics of the Hebrew University of Jerusalem.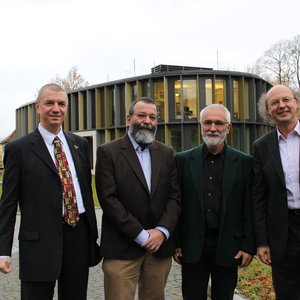 The Wempe Prize is financed from funds left in the will of the late Johann Wempe, the last director of the former Astrophysical Observatory Potsdam. It includes financial support for an extended stay at AIP in Potsdam for up to several months It may be awarded to younger scientist for notable achievements and to distinguished senior scientist in recognition of their life's work. Former recipients include Prof. Tom Abel from Stanford University (2001), Dr. Russel D. Cannon from the Anglo-Australian Observatory Sydney (2002), Dr. Isabelle Baraffe and Prof. Gilles Chabrier from the Ecole Normale Superior de Lyon (2004), Dr. Alexander G. Kosovichev from Stanford University (2005), Prof. Eva Grebel from the Astronomical Institute of the University of Basel (2006), Dr. Ignasi Ribas from the Institute de Ciencies de l'Espai in Barcelona, Spanien (2007), Prof. Dr. Dr. h.c. Kenneth C. Freeman from the Australian National University (2008) and Dr. Matthias Rempel from High Altitude Observatory Boulder (2009).
Contact
Prof. Dr. Matthias Steinmetz
Leibniz-Institut für Astrophysik Potsdam (AIP)
An der Sternwarte 16
14482 Potsdam, Germany

Press contact
Madleen Köppen
Last update: 10. November 2021