Scientists, students and doctoral candidates as well as technical and administrative staff of different nationalities work closely together at the AIP. An overview of all staff members can be found on the pages of the individual research and infrastructure sections and on the members page.
Code of Conduct
The AIP strives for a respectful, professional and tolerant working atmosphere. All institute members and guests should comply with the "Code of Conduct", which serves as a guideline on protection against discrimination, harassment and violence.
The Code of Conduct also applies correspondingly to events organised by the AIP. In this case, for complaints of misconduct, please contact the person responsible for the event, the host or AIPs institute management.
The AIP complies with the European Commission's guidelines on gender equality in the form of a Gender Equality Plan (GEP).
Information on gender equality, inclusion and work-life balance is available on the site:
Rules for assuring good scientifc practice
Guidelines for scientific working methods, including quality assurance and reproducibility of research results and dealing with conflicts and misconduct, are summarised in the rules for ensuring good scientific practice. The current version is available here: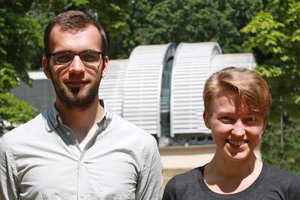 Promotion of young talents
The AIP offers a wide range of activities for schools, so that pupils can find out about current research and also possible career fields.
For students, the research departments offer various opportunities for final theses such as Master's theses. Doctoral students can find advertisements for doctoral theses on the job vacancies page. The following pages provide more detailed information on doctoral training at the AIP.
The AIP offers apprenticeships in administration, IT service and the technical section. Click here for the training programme in research technology.
Social Activities
Being a research institute with an international staff, the AIP considers it important to create a healthy and supportive work environment at their offices in Babelsberg. The institute currently offers
Various sports like table tennis, Tai Chi courses, back pain prevention
German and English classes
Various other offers are in planning.
We welcome your ideas and suggestions for further services and courses!
Last update: 7. February 2023