Historical Site Telegrafenberg
Great Refractor and Einstein Tower
Potsdam-Telegrafenberg
Albert-Einstein-Straße
14473 Potsdam
By plane
Berlin has one airport: the Berlin Brandenburg Airport (BER). From there, you can reach the AIP by public transport (see below) and also by taking a taxi or renting a car.
A taxi from the airport will cost around €65 and take about 45 minutes. Renting a car for two days costs approximately €160.
By bus and train
You can find the most convenient connection for you on the VBB website (Destination : Potsdam, Telegrafenberg). Please note that the bus 691 is only available on weekdays.
Tickets
Tickets can be purchased before boarding the bus and train stations (ATM) or directly on the bus. If you buy your ticket from the ticket machine, please make sure to use the ticket puncher to validate the ticket before entering the bus or the train.
Arriving by car
Potsdam is located southwest of Berlin. From Berlin you can reach us by car if you take the A 115 to the exit Potsdam-Babelsberg; follow from the Nuthe-Expressway on the signs towards "Landtag", then "Wissenschaftspark Albert Einstein" and park near the gate on the road.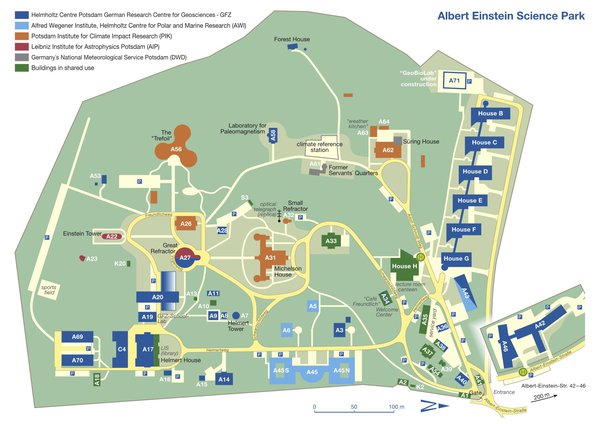 Last update: 1. April 2021