New building Campus Babelsberg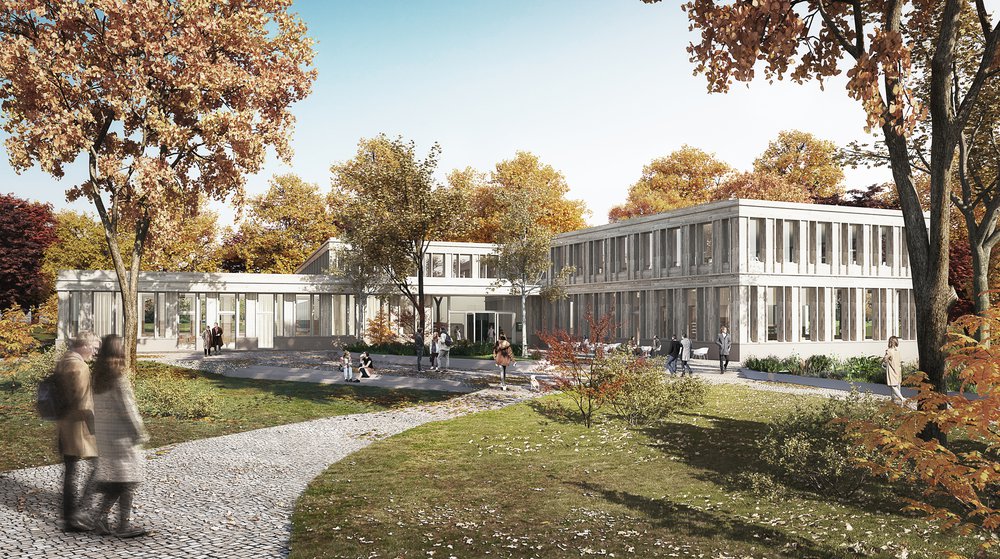 In order to maintain and expand its research activities at the Babelsberg campus, the AIP is constructing a new multipurpose building. The new building will offer meeting and office rooms, contain an urgently needed conference room for up to 199 guests, provide an exhibition area, and house the necessary service and dining rooms for an advanced cafeteria service.
The AIP's landmarked site was originally part of Babelsberg Park, so historic preservation was central to the bidding process for the new building. The new multipurpose building is expected to be the last new building for this site. The location has been chosen in a way that ensures that the new building fits perfectly into the park-like landscape and preserves as many trees as possible. Its tiered construction will be well suited to the existing terrain. The result will be an energy-efficient building with geothermal energy and solar panels, and its construction and appearance with a wooden façade will blend harmoniously with the mixture of historical and modern buildings on the institute's grounds.
<Staff at AIP were able to contribute their ideas on spatial and functional needs in a survey, and a user committee is accompanying the planning and now the construction phase. Construction began on February 8, 2021 with the first site preparations, construction of the shell started in August 2021. The building is scheduled for completion by mid-2024.
Overview
Construction of a multi-purpose building at the Campus Babelsberg
Costs: 23 million Euros, half financed by federal and half by state governments
Usable floor space: 2600 m2
Completion: 2024 (planned)
Last update: 28. October 2021