"Working with your head and your hands" – Apprenticeship at the AIP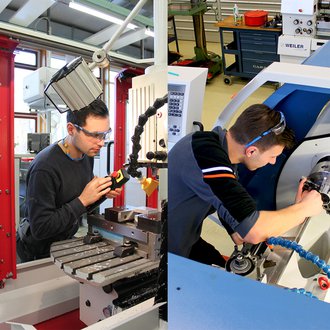 Feb. 3, 2020 //
In addition to excellent astrophysical research, the Leibniz Institute for Astrophysics Potsdam (AIP) excels in the development of modern research infrastructure. This is possible in part thanks to the institute's own precision engineering workshop in the technical section. For many years, precision machinists have been trained there according to the principles of trade. The graduates Cornelius Lübke and Leander Leibnitz successfully completed their apprenticeship in January 2020 and tell of their experiences in an interview.
Why did you choose the AIP as the place of your apprenticeship?
Cornelius Lübke (CL): The AIP's job advertisement immediately caught my interest because the apprenticeship as a precision machinist includes a very diverse range of activities. Furthermore, the special focus on precision mechanics is only offered at a few locations in Brandenburg.
Leander Leibnitz (LL): "First, the AIP provides the opportunity to learn all of the many manual work techniques in detail, with plenty of practice time; for example, you are taught to work with both lathes and milling machines, which is not the case in every company. Secondly, for me the AIP provided the best conditions during the apprenticeship period.
What was your motivation for your choice of career?
CL: The reasons I decided to train as a precision machinist are complex. For a start, I have been tinkering and building for half my life, and my father has already given me an impression of the activities involved in the precision mechanics trade. The decisive factor for me was to be able to learn new techniques during my apprenticeship and to expand and constantly improve my skills and areas of expertise.
LL: My motivation was to learn new skills in a profession that requires manual dexterity and high manufacturing precision. Besides, I wanted to be financially independent.
Have you always wanted to do an apprenticeship or did you also consider studying at university?
CL: I realized early on that I would opt for vocational training because the thorough and practical training offered by the dual system is unique. It is also possible to move into academic study afterwards.
LL: At first, I wanted to attend university, but eventually decided against it. The reason for my decision is that during my apprenticeship I can put the knowledge I have acquired into practice quickly. A course of university study is mainly concerned with theory.
What does a typical working day look like for an apprentice at the AIP?
LL: On a typical working day I would manufacture a specific workpiece, which helps with mastering particular skills and abilities. The tasks vary according to the stage of the apprenticeship. The manufacturing task is first discussed in theory and it is then executed independently. The master craftsman and the journeymen are on hand to help with questions or problems.
What advantages do you see in an apprenticeship in the trade?
CL: Definitely the opportunity to work with your head and your hands. The various production steps must be planned and then carried out properly. After finishing the workpiece, I always get a feeling of happiness and satisfaction to have completed a part.
What's next after the end of your apprenticeship?
CL: I am very lucky to be able to continue working at the AIP for another year. In the long term, I would like to further improve myself in the trade. Lately, I have been thinking about working and continuing to learn abroad.
LL: I will also continue to work on current projects at the AIP for one more year, which will allow me to gain more practical experience.
What advice would you give young people who are thinking about training as a precision machinist?
LL: Anyone thinking about an apprenticeship should have manual skills as well as being open to new things, willing to learn, patient, a team player and reliable. I can highly recommend this apprenticeship because it is fun, exciting and versatile. Not only do you learn many different material processing techniques, but also the basics of pneumatics and electro-pneumatics, CNC programming, CAD/CAM and much more.
We thank both apprentices for the interview.
The key areas of research at the Leibniz Institute for Astrophysics Potsdam (AIP) are cosmic magnetic fields and extragalactic astrophysics. A considerable part of the institute's efforts aims at the development of research technology in the fields of spectroscopy, robotic telescopes, and E-science. The AIP is the successor of the Berlin Observatory founded in 1700 and of the Astrophysical Observatory of Potsdam founded in 1874. The latter was the world's first observatory to emphasize explicitly the research area of astrophysics. The AIP has been a member of the Leibniz Association since 1992.
Last update: 2. February 2021